Stain Detective- Carpet,Upholstery, Leather And Hard Floor Cleaning Is Based At;
KETTERING
At No:6 Athelstan Road,
Kettering,
Northamptonshire
NN16 0NB
NORTHAMPTON

Media House ,
Northampton
NN26EW

Telephone:078 1561 1253
Email: daniel@staindetectiveuk.com
shelley@staindetectiveuk.com
info@staindetectiveuk.com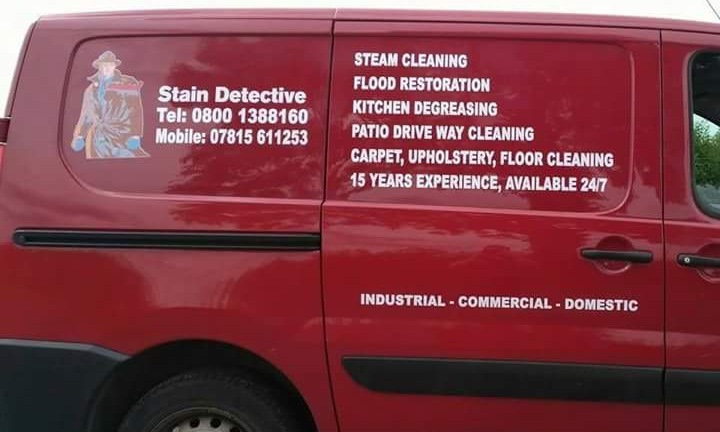 TERMS AND CONDITIONS BELOW Carpet,Upholstery,Leather And Hard Floor Cleaning services provided in;Kettering,Corby,Wellingborough,Rushden,Market Harborough,Leicester,Northampton,Daventry,Towcester,Rugby,Long Buckby,Milton Keynes,Bedford *and many more.
Terms And Conditions: We will normally give an estimate before a job is provisionally accepted, we Will confirm an exact price Before starting any works .
We advise all customers to ensure areas have heating on where we are cleaning (before we arrive)for drying purposes especially during the winter months ,once areas are dry then open windows etc to ventilate .We take NO responsibility for drying any thing we clean as our machines are industrial and only leave areas damp , in the right conditions ,areas will dry quickly.Failure to not follow these instructions may cause damage or odours problems which again we do not take responsibility for.
We are very friendly but we are NOT A REMOVAL COMPANY, we are cleaners ,it is the customer s responsibility to move items , and to put them somewhere sensible ,if we ever decide to assist ,this is a good will gesture and we Do NOT TAKE ANY RESPONSABILTY FOR ANY DAMAGE .We also advise customers that they may wish to place plastic under wooden legs or metal ,iron etc (where items have not been removed from area we are cleaning)to prevent any possible staining.
There will always be RISKS such as trip hazards , wet floors etc , we always ensure customers or public are made aware , if their are any other risks that the customer is aware of ,we need to be made aware in written form.
Our testimonials on our web page,Facebook page ,Linked in etc speak for themselves ,We never pretend to clean and restore 100percent like new but we will work to the best of our ability using only well sourced products and equipment,many of our customers to say areas we have cleaned are like new after we are finished,we do not leave the area we are working untill our customer or their chosen representative has looked at our work and is happy for us to leave ,in the very un likely event a complaint arises it must be logged within 24 hrs of work being carried out ,preferably by email,text message or phone call ,we will Not consider the complaint after this time, hence why we encourage our works to be inspected and checked before leaving.
If we receive a complaint within 24hrs we will guarantee to respond within 5 working days , but aim to resolve the issue ASAP.
OUR PRICES:We attempt to tailor make our prices and packages to suit our customers individual needs as every customer and project is different, When we quote to clean a carpet we quoting to steam ,wash ,sanitise and deodorise ,this price does NOT include stain removal products unless previously agreed .This is because stain removal products are expensive and stain removal can be very time consuming depending on the type of stain etc .
SUBCONTRACTING :If we are Sub contracting for another company ,you (the other) are our customer ,(your customers are your own )and as long as we have carried out our agreed works,in the same manner as outlined in our T and C's above (,unless otherwise agreed) our T and C s apply to you in the very same way.
Day Rate : If we have agreed a day rate ,e.g you have sent us two or three jobs ,you our customer are booking us at our agreed day rate charge , Once you have us booked we do not take any reductions in cost if your customer cancels at last minute or makes any changes etc ,this is your responsibility to implement your own terms and conditions upon them or charge a cancellation fee etc.We still charge our agreed day rate fee because we have had to purchase products, fuel ,arrange our equipment ,diary etc to suit your booking.
PAYMENT TERMS: are upon job completed unless otherwise agreed. Please be aware in the case of a late payment we reserve the right to charge a £50.00 late charge fee , interest at 10%then gets applied weekly to your invoice ,if our invoice still is not paid we will then pass to a debt collection agency or pursue through court.
We often take before and after pictures for demonstration purposes and sometimes use for marketing purposes but never disclose any personal information and if requested we would never use .
CANCELLATION & CANCELLATION FEES:In the event of a cancellation where we have been given less than 48hrs notice we reserve the right to charge 50% of the invoice value to cover any loss of earnings.
DEPOSITS (commercial ,larger projects mainly):With most commercial jobs we will ask for approx 50% upfront unless otherwise agreed. This is NON refundable.
CREDIT ACCOUNTS:We do Not give credit to first time customers.
We reserve the right to not carry out works if we decide .
Banking details available upon request .
(Last updated December 2016)